Here's a cool event that we recently got wind of: A one-night sustainable landscaping forum, organized by the NY Urban Green Council.
Eco Brooklyn builds green homes–literally.  In addition to energy-efficient, eco-friendly building, Eco Brooklyn installs green roofs and sustainable landscaping.  We adapt greenery to the urban landscape by incorporating native plants, vertical gardens, green walls, living steps, water gardens, and ecological swimming pools.
There's not much room for landscaping in Brooklyn and New York, but we put the greenery where we can fit it, like this water garden in the front courtyard of our show house in Carroll Gardens.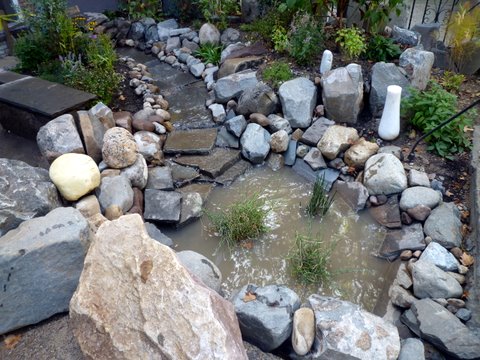 One of our goals for the future is to install a living wall, or living steps, in which we take a structure that's otherwise integral to the building's function and add our own green twist with living plants.  We like to keep landscaping projects local, sustainable, and green.
So that's why we're excited about the next installment in the Urban Green Council's Emerging Professionals Educational Forum series:
The Urban Green Council's Educational Forum for February will focus on sustainable landscaping trends, featuring Patricia Olmstead, founder of Urban Explorations Inc.
Event details:
February 7, 2012 (Tuesday)
6:30-8pm
Hosted at Skanska HQ, 32nd floor of the Empire State Building
Mandatory afterparty networking party at the Heartland Brewery afterward!
The event will be free to Urban Green Council members, with a $5 registration fee for non-members. This is a great chance to network with local like-minded professionals, and learn more about green building!
You must, however, register for this event.  Empire State Building security will not permit walk-ins.  Visit the event page for details on how to register.  Hope to see you there!