After some research we noticed that one of the most effective ways to reduce impact noise between floors was to put a recycled tyre product between the floor and sub floor. It creates a vibrating cushion that absorbs the impact, thus deadening the sound.
The only problem is that this product is costly. And costly is not green in the slightest.
So we went to the mechanic down the road. He was more than happy to give us some used tires. He has to pay to dispose of them into the landfill. We took the tires and cut them into little strips.
The strips were placed wherever a stud or support beam made contact with the floor above, creating a sound impact barrier between the two floors. Kids jumping, heavy boots and games of basketball should all become less audible from the neighbors above thanks to our technique.

Cutting the tires into strips.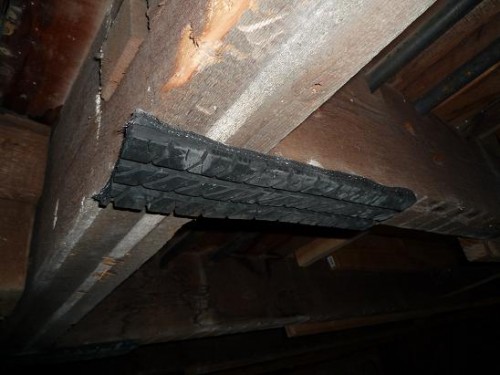 Placing the tire under the joists.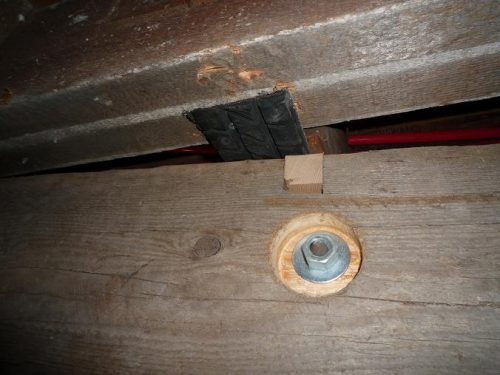 The same tire pictured above but now we have put the support beam beneath it. The tire now acts as a sound barrier between the joists and the beam, breaking the vibration that would normally pass from the joist to the beam and the floor below.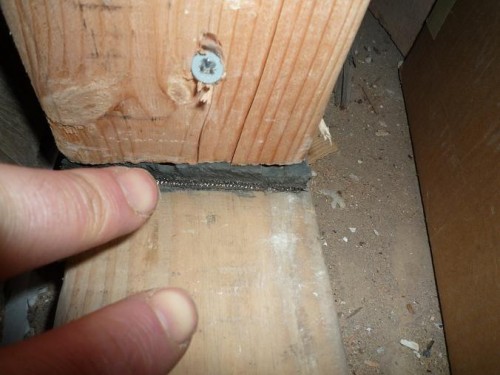 Here is an example of the tire placed between the stud and the footer. It is better to place the tire between the stud and the header to stop sound coming from above. But in this case the stud was supporting the stairs so it didn't matter.