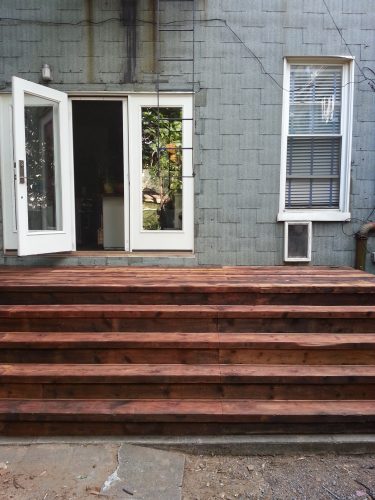 Eco Brooklyn's latest project was developed for our client in Williamsburg. The client was looking to renovate their distressed backyard and create a beautiful space to sit and relax. We first develop a design and render it for the clients approval. This deck is perfect for small gatherings, allows access to the yard, and the large stairs double as sitting space.
The project began be removing the existing stairs and gathering our salvaged Douglas fir from the storage yard. Once all the materials are gathered on site we begin the work of building the deck from the foundation up.
After the deck is built we are able to sand and Eco-oil the wood with a milk protein finish. Blending recycled materials and utilizing techniques to prevent environmental degradation are the goals of our green-building project, so the end result is not only eco-friendly but aesthetically pleasing and functional.
Post and Rendering by Anthony Rivale