We at EcoBrooklyn engage in a number of exciting green building projects and experiments throughout the year, but with the hot months ahead at the top of our list is the natural pool for the show house and with its completion so close we can almost feel the cool, energetic, life infused water on our toes.
A "Natural pool" is more about incorporating nature into the design and functions of the pool, harnessing natural processes to maintain quality, swimable water and blurring the line between built and naturally occurring.
A healthy body of fresh water has a number of checks and balances that keep it in balance. A Natural Pool simply recreates these elements. Nature does the rest.
A Natural Pool has the swimming area and then another area called the regeneration zone. This zone contains plants and, most importantly, surface area usually in the form of gravel that microbes can live on.
The plants and microbes compete with algae for food and since you pack it with surface area the microbes beat out the algae. In essence you create an environment where food (leaves, soil, bugs, and other organic matter) is scarce, so what food there is becomes eaten by plants and microbes instead of algae.
The process is fairly flexible and can be as simple or complex as you like as long as you have a few basic elements:
-No chemical fertilizers/ pesticides used adjacent to the site
-Natural filtration system
-A variety of different plants, surface area and microbes to promote a balanced ecosystem
The primary appeal of a natural pool is the absence of the typical cocktail of harsh chemicals designed to kill pretty much everything in the water, except the swimmer more or less.
The second attraction is the positive ecological effect; this is something you can build with salvaged and recycled materials while helping to reinstate local/native ecosystems.
As with most things green there is a degree of time and thought investment not usually associated with the typical energy sapping, chlorinated eyesore.
Maintenance is still simpler and less expensive, but one needs to learn and follow a set of steps and rules, which as one grows with the pool these steps become second nature, or perhaps first nature…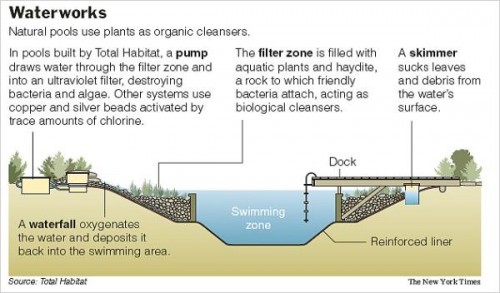 Thankfully there are always pioneers braving new frontiers and providing the general populace with valuable resources and tools to implement in their own projects.  The Europeans especially have been at the forefront of the natural pools race for over a decade now. They have built massive public natural swimming pools that cater to thousands of people with great success.
Below is a list of websites and organizations specifically geared towards natural pool construction; they provide excellent technical suggestions for all types of designs and constraints as well as helpful trouble shooting for any problems that may arise.  Also they can provide you with competent local green contractors and builders in your area familiar with this sort of construction.
Eco Brooklyn hopes to become a leading natural pool installer in the New York area. We feel this is an excellent option since it adds so much to a garden, both for humans but for native wildlife.
http://www.motherearthnews.com/Do-It-Yourself/2002-08-01/Natural-Swimming-Pool.aspx
http://www.biotop-gmbh.at/
http://www.totalhabitat.com/p&p.html
http://www.clear-water-revival.com/
-Michael DiCarlo