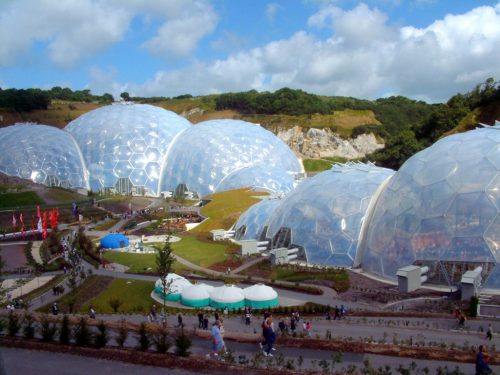 As a New York green builder, Eco Brooklyn is always interested in learning about what other sustainable design ideas are out there.  Last night, I listened to an amazing TED talk that took green building to a whole new level.
Michael Pawlyn, formerly with Grimshaw Architects, London, spoke about biomimicry and sustainable design and how he believes we should be looking to nature for both our inspiration and the solution to our design dilemmas. By looking to nature, we can create more efficient systems and usurp the benefits of nature's 3.5 billion years of R&D.
Michael Pawlyn also addressed the importance of creating efficient cyclical uses of products (beneficial to both humans and nature) instead of the current, inefficient linear model of produce, use, throw away. (This theory is laid out eloquently in Michael McDonough and Michael Braungart's must-read, Cradle to Cradle.)
Looking to Nature for Answers
Nature is effecient.  Nature epitomizes the mantra waste not want not.  In nature, waste is food.  Humans, on the other hand, are the polar opposite.  We are wasteful, inefficient, and operate on a use-it-once-and-throw-it-away mentality.
Many engineers and architects are practicing biomimicry, looking to nature for answers to the world's most pressing problems, including us here at Eco Brooklyn.  The passivhaus pond in the backyard, for example, uses no chemicals, but gravel, rocks, and plants, to filter out dirt and other impurities.  Just like nature would in a pond or lake.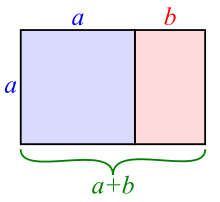 The idea of mimicking nature in manmade inventions is not new by any means.  The Greeks applied "the golden ratio", also called the golden mean or golden selection, to their art and architecture.  The Pantheon is based on the golden ratio.  Even the volutes on ionic columns use these proportions.
Medieval alchemists would initially determine a plant's potential healing qualities by what it looked like.  For example, the leaves of the lungwort plant, which resemble the human lung, were used to treat respiratory problems.
Cyclical vs Linear Consumption
Nature functions on a closed loop system.  The waste of one is the food for another.  The dead leaves that come off trees in the Autumn become nutrients for the soil and earthworms on the ground to which they fell.  The earthworms eat the leaves and their waste provide nutrients for the tree, which then gives it energy to produce new leaves in the Spring.
Biomimicry is about creating manmade systems that replicate the remarkably efficient systems found in nature.  In one of his lectures, Pawlyn gives the example of Cardboard to Caviar.  The expensive cardboard packaging that caviar comes in was bought from a restaurant and used as bedding for horses in stables.  When that wore out, it was taken and added to a compost heap that feed worms.  These worms are harvested and sold as food to roe, whose eggs are then harvest and sold as caviar at the same restaurant.  These types of closed looped systems are both economically and environmentally sound.  The metabolism of our cities needs to be reexamined so that nothing is wasted and beneficial, efficient systems are created.
The Eden Project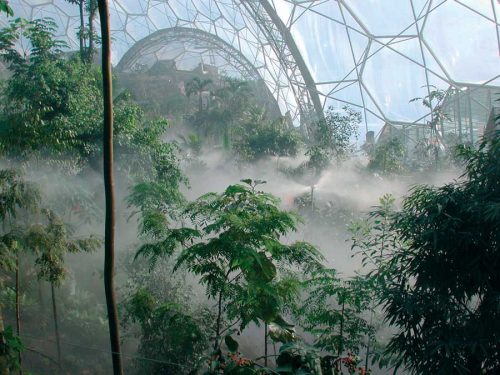 Contrary to popular belief, it is possible to create sustainable, carbon neutral (or even carbon positive), green designs that are more efficient and cost less than the "standard" models.  "It is possible to cut carbon emissions and save money," says Michael Pawlyn. "The key to it is innovation."  This has been proven by Mr Pawlyn in his work on many projects, specifically the Eden Project in Cornwall, England.
The Eden Project is the world's largest greenhouse.  It is the second most visited paid attraction in England.  It was designed by Grimshaw Architects and opened in March 2001.
The site is on a reclaimed Kaolinite mine.  Since the site was still being quarried during the design process, they had to design a structure that could be built regardless of the what the final ground levels were going to be.  The result is a series of bubble-like domes of varying sizes strung along the landscape.  By looking to nature, they discovered that the most effective way to create a spherical surface is by using geodesics (hexagons and pentagons).  These bubbles are a series of giant hexagons welded together and then inflated.
The biomes are made of Ethylene Tetrafluoroethylene (ETFE), a transparent polymer that is used instead of glass and plastic in many modern buildings.  ETFE is incredibly strong and much lighter than glass.  Because of the lightness of the material, less steal was use for reinforcement which means more light can enter the space and less energy is required to heat space in the winter.  In fact, the structure itself weighs less than the air it contains
ETFE costs 1/3 less than the traditional glass solution.  ETFE is one percent of the weight of double glazing.
The Eden Project is just one of many examples of biomimicry and how man can learn to be efficient by mimicking what is already happening in nature.  By being aware of how nature solves problems we can improve our everyday lives.  Small things such as composting can make a big difference.  Compost puts nutrients back into the soil, feeds earthworms, and diverts food waste from going to landfills.  Finding new uses for old items gives them a new life.   We saved hundreds of pounds of lovely Blue Stone from a fate of going to the landfill by pulling it out of a dumpster and using it as paving in the front yard.  We can all be eco builders, practicing the principles of biomimicry.
In the words of Margaret Mead, "A small group of thoughtful people could change the world. Indeed, it's the only thing that ever has."