For me the green builder's tedium is the boring non-VOC paint and I'm forever looking for more natural and interesting wall applications. The book Tadelakt – An Old Moroccan Plaster Technique Newly Discovered, by Michael Johannes Ochs and published by Norton, is one such source for alternatives to the bla of big company non-VOC paint.
Tadelakt is a Morrocan word loosely translated as "rubbed clay" and is a natural wall finish that is waterproof and highly durable.
From Wiki:
Tadelakt or Tadellakt is a bright, nearly waterproof lime plaster which can be used on the inside of buildings and on the outside. It is the traditional coating of the palaces, hammams and bathrooms of the riads in Morocco. Its traditional application includes being polished with a river stone and treated with a soft soap to acquire its final appearance and water resistance.

Tadelakt has a luxurious, soft aspect with undulations due to the work of the artisans who finish it; in certain installations, it is suitable for making bathtubs, showers, and washbasins and confers great decorative capacities. Traditionally, tadelakt is produced with the lime of the area of Marrakech. Tadelakt is a Berber word meaning to rub.
The key ingredient of Tadelakt is 95% burnt limestone, with the other 5% being the sand and ash resulting from the burning process. It is a light gray color but mixed well with natural colors to create a bright wall finish that is very striking.
The plaster is applied to a wall and then rubbed with a hard polished stone until the surface literally shines.
The process is time consuming but the results can last for generations and is a great green process.
As a New York green contractor we suggest this application for all those exposed brick walls in a brownstone. For example in a space starved bathroom simply expose the brick wall and put a Tadelakt finish over it for a beautiful water repellent surface that takes up no extra space.
We experiment with the traditional mix but are also looking into more  locally sourced ingredients. The beauty of this process is that even the imperfections are special.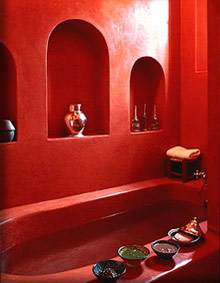 The book Tadelakt is an excellent resource for discovering this old art. Filled with great pictures and laid out in an orderly way, the book walks you through the process. The book also has a great introduction to the Moroccan culture that surrounds the wall plaster, showing they are deeply connected.
Transforming this art to a NY environment is all part of what makes NY so special. Building green in NY means respecting our local customs, and for us that means respecting the huge diversity of cultures, Moroccan being one of them.