In 1875,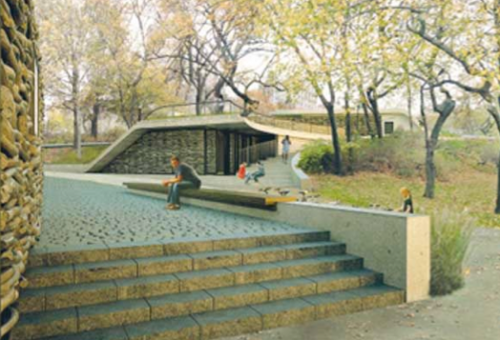 Fredrick Law Olmsted designed Riverside Park, in 1935 Robert Moses built a highway right thought, but somehow the park has prevailed and it now going to be home to one of the greenest structures in the city – a composting toilet.
Riverside Park is home to the cities only clay tennis courts, this of course results in waits up to two and three hours. Waiting on a grassy knoll with perfect views of the Hudson doesn't sound to shabby, but as nature calls, there is an inevitable need for a bathroom. That is why the Riverside Clay Tennis Association has decided to build a facility that will accommodate the needs of the parks visitors while being ecological, something public toilets rarely are.
The Riverside Tennis Association has commissioned Rick Cook of Cook & Fox to design a facility equipped with composting toilets and solar panels. Cook & Fox are also responsible for the LEED certified Bank of America tower across from Bryant Park.
Cook & Fox are taking this incredible concept one step further by designing this center to the Living Building Challenge standard, which is one of the toughest green standards out there. We recently wrote a blog about Bucky Fuller and the Living Building Challenge -a standard that we at Eco Brooklyn aspire to.
Living Building Challenge is difficult to achieve for multiple reasons, but the most challenging aspect of the standard is the water limitations. Buildings have a hard time qualifying for the LBC because bathrooms use such a large amount of water. The standard is so tough that in most places it is illegal, as most building codes demand a connection to water and sewer – the LBC standards call for net zero water (capturing rain water and discharging it onsite).
The design proposed a small building; the majority of it located underground, equipped with composting toilets, the compost generated by the toilets will be used to fertilize the greenery. Which is the one of the main reasons that we, at Eco Brooklyn ae so excited about this project. As green builders, we have installed numerous composting toilets. The design also incorporates photovoltaic panels which will be scattered in tree-like formations to power the building. Solar panels are another element that makes this project to actractive to NY Green Contractors like ourselves. We currently have plans to install solar panels on the rook and siding our the Ecpo Brooklyn Showhouse.
Composting toilettes typically use about three ounces of water compared to the 1.6 to 0.8 gallons per flush that typical high efficiency toilets use.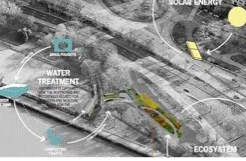 The design incorporates other green aspects besides composting toilets and solar panels. The architects plan to use recycled building materials, a green roof planted with native species and blast furnace slag in the concrete to circumvent the carbon heavy manufacturing process of cement.  For the past two weeks, we have been researching and planting native plants in the Show house. Last week we were weeding and plantings native species on a green roof in Brooklyn. We are excited to see that Cook + Fox have taken native species into account to create this NY design.
The Green design came out of necessity. The high water table and proximity to the Hudson makes it impossible to install a septic tank and leach field, in addition to those obstacles there is no connection to the city sewage system (sewage lines stop on the other side of the Henry Hudson Highway). Essentially their only option was to go green. Once again green building pushes past limitations that we humans have created for ourselves.
The bathrooms replace two portable toilets, a small brick shack and a repurposed shipping container that is used for storage; it will be built on the southeast corner of the courts.
The facility's estimated cost is around $5.5 million and is scheduled to open this summer.