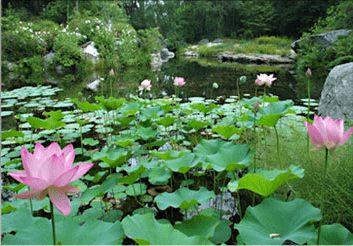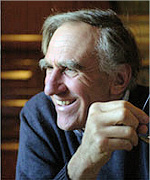 Anthony Archer-Wills is a world class water garden designer who has built over 2,000 ponds, water gardens, waterfalls, and streams across the globe.
He has several books out, among them The Water Gardener and Designing Water gardens: A Unique Approach.
Gennaro Brooks-Church, Eco Brooklyn's Director, had the opportunity to take a course with him on designing natural swimming pools, hosted by the US distributor of Bionova Natural pools. Eco Brooklyn is building a natural swimming pool at the Green Show House.
Anthony sets the bar for water design. He is best known for his mimicry of natural water systems and the resulting subtlety of his designs. Where most "watershapers" go wrong, Anthony says, is how they design the inflow of water. Often it is not well-concealed or does not attempt to appear natural. Water fountains, for instance, do not resemble any kind of natural event (and, if I might add, increase water consumption through evaporation.) That's why they look out of place, tacky even.
The most successful water gardens are the ones that you can't tell are manmade, that look as if nature had placed them there hundreds of years ago. Not only are they more aesthetically appealing but they also work more harmoniously with nature. Read more here.
Here are some examples of his work: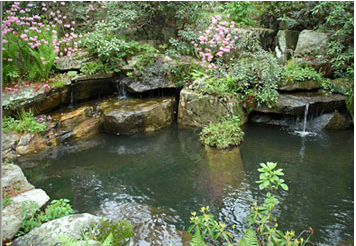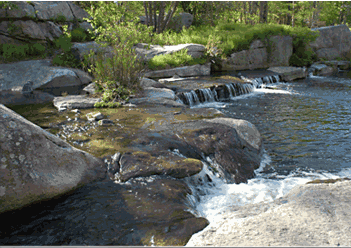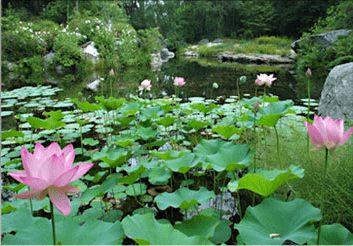 The one hitch in his amazing designs is the amount of energy used to pump water. His projects are sometimes so large – lakes, rivers – that the pumps used to move the water are massive. Though we are in complete awe of his art there is definitely an element of energy waste.
Some of his clients have the money to move mountains, and although the water work is amazing, the drive behind the work is not always ecological but rather somebody's desire to have a lake view where there previously wasn't one, cost and waste be damned.
Building water places, or in some cases rebuilding them, is important work. Of paramount importance is to consider the amount of waste produced and what is done with it during the construction phase, how much energy is used to maintain the water system, and what the water garden's implications are for the surrounding ecosystem (it is likely that such water systems add to the biodiversity of an area but you cannot forget about the area that was destroyed to make it).
Eco Brooklyn is interested in learning from Anthony Archer-Wills' naturalistic design and applying those techniques to smaller scale, low or zero energy green water gardens, natural swimming pools, streams and pond designs in New York City.
By using gravity fed rain runoff and gray water with solar power we are learning how to make water features perfect for the New York City garden.
As NY green contractors and innovators of sustainable design, we are pushing ourselves to build with as little ecological impact as possible while trying to maintain the design tradition pioneered by Anthony Archer-Wills.
Our latest job is being build in a Brooklyn garden that had very high lead levels in the soil. We used the digging of a small natural swimming pool as an opportunity to flip clean soil from deeper in the ground over the contaminated soil.
Then, using walls from salvaged brick and broken sacks of cement we built a container. The end result will be a pool for people to play in that uses no chemicals and integrates naturally with the rest of the garden, designed by Eco Brooklyn with stones and native plants to look wild.
Another job we completed was a pond and little stream.
Eco Brooklyn was largely inspired by Anthony's work in the design of this pond and waterfall. We tried to imagine how the rocks and pebbles would fall and settle in a real river, where riparian plants would most likely take root, what kind of nooks create the best hiding places for our fish, and so forth.
Keeping in mind Anthony's warning, we have tried to make our water source as well concealed as possible so that it looks like the water is seeping out of the rocks.
We are constantly rearranging the pond's plants and rocks in an effort to best match nature (and, to be honest, just for fun.) But we feel that this constant rearranging is yet another imitation of nature as we know that rocks, plants, and animals are always in motion in a stream environment.
Here is a video of a robin bathing in our stream!