Here are two articles relevant to lead remediation in New York garden soil. Eco Brooklyn gets a lot of calls from clients with a child on the way and a recently purchased house. They intelligently tested the soil in the garden to be sure it is safe for toddlers and to their dismay they often find it has lead in it.
Our solution is usually to remove the top layer of soil, add a protective root barrier and then bring in new soil. We then landscape the garden using salvaged bricks or bluestone to create a patio and native plantings  area free of lead contaminated soil.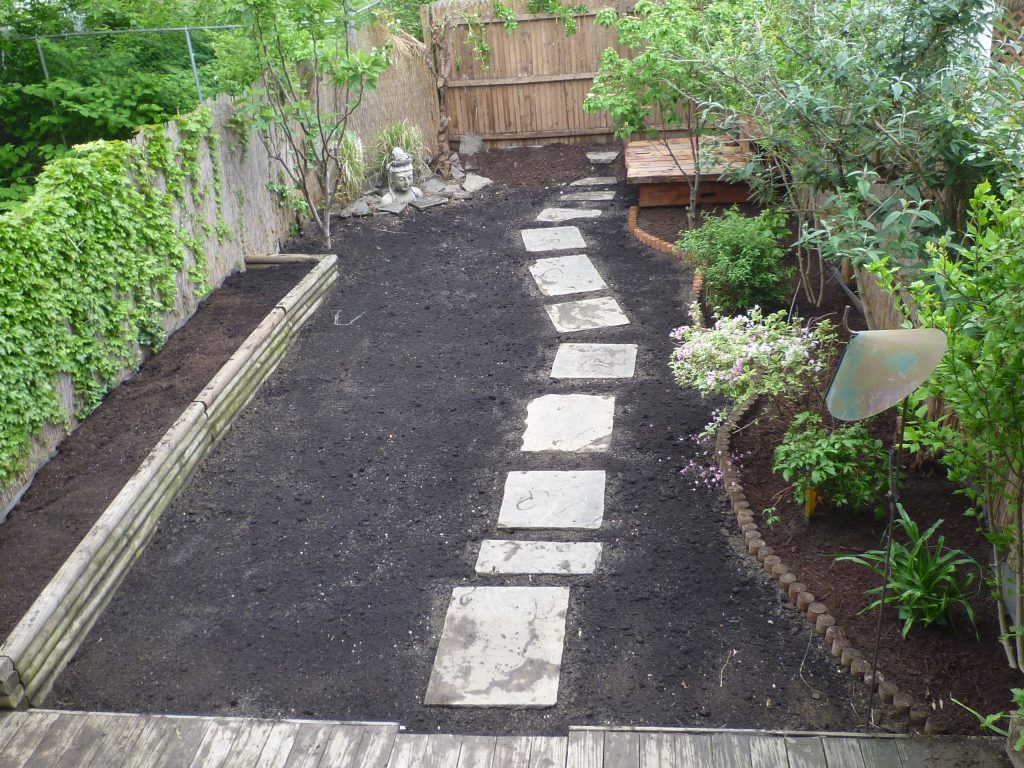 This garden was barren with lead soil when we got to it. We removed the top layer of soil and brought in a layer of rich compost. We then landscaped with all salvaged materials – bluestone, deck, planter, border. We then planted. The ground was planted with ecological grass which takes a season to grow in. 
Removing the soil is costly however. So recently we have started to look into stay-in-place solutions. The most common one is to simply dilute the existing soil with certain kinds of material.
The best options we have found so far are to load the soil up with rich compost, which is full of iron, manganese, phosphorous and organic matter. These elements reduce the uptake of lead in humans and plants. The iron and manganese bind with the lead and thus make it less accessible. The phosphorous and organic matter increase the soil PH, which reduces the availability of lead uptake.
Some studies have found that doing this actually renders vegetables grown in the contaminated soil safe to eat. Getting the soil to be safe for toddlers is more of a challenge but we are becoming increasingly more confident with this new process. We aren't completely there yet but we are working towards a solution that involves simply adding specific kinds of compost to the soil. This would reduce the remediation time and cost considerably.
As a New York green contractor and landscaper we feel that remediating NY gardens is a crucial part of making our city safe. There is no point in building a beautiful garden if the soil is toxic. Along with building healthy homes, the garden is a top priority for the safety of our children.
The following two articles are very interesting and worth reading:
Cornell U.
Biosolids