Check out this petition on change.org.  We think their proposal to turn an abandoned tract of land into green space will benefit many New Yorkers.
The Rockaway Beach Branch Committee is petitioning the New York City Council to turn an abandoned 3.5 mile stretch of the old Rockaway Beach Branch railroad into a green space.
Rail service ended 60 years ago, and the city and MTA have indicated that they have no intention of reactivating the rail line due to financial and logistical concerns.  The land has sat there as a dumping ground, a waste of a large unused tract of land in an area populated by hundreds of thousands.
The proposed green space connects nearby communities, recreational areas, and public transportation lines.   The project echoes the recently completed High Line park in Manhattan, which recycled old railroad into an urban park.  In addition to cultural benefits, urban parks have economic perks: turning the unused space into a green gathering place has stimulated real estate development along the 1-mile strip.
The High Line's southern end in 2005, before renovation.
Completed central portion of the High Line in 2010
In addition to greening New York through construction, Eco Brooklyn also does ecological gardening. We use native plants and local resources like stones, tree trunks and rain water to recreate natural native landscapes. We are a big fan of the Manhattan High Line as a successful example of using an abandoned space to increase community and nature with native plants.
Sign the petition, and help recycle wasted space into a green zone today!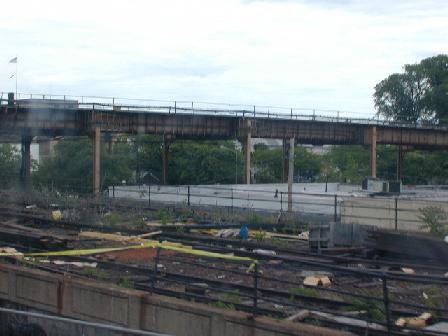 What the land looks like now.  Read and sign the petition here.