Natural swimming pools or living spas are much more common throughout Europe, but are increasingly becoming more popular in the United States. Now that the spring weather is beginning to surface, it's time for Eco Brooklyn to open up our Natural Pool for the swimming season. We use it as a showcase pool for clients considering installing a Natural Swimming pool in New York. And we also use it to cool off and enjoy during the summer!
So how does this compare to tradition swimming pool maintenance? Like our design philosophy, Eco Brooklyn's swimming hole should blend low energy costs with little to no waste or hazardous chemicals.
Here is a simple diagram from Inspiration Green that depicts exactly how natural swimming pools function.
The first step in opening our natural spa is to turn on the tiny 100 watt water pump that feeds the soiled plants, bacteria, and critters that filter the pool's water.
Next we turn on a very small aeration pump which enriches the water with oxygen, to encourage more plant growth and aerobic bacteria function.
Lastly Eco Brooklyn interns get to spend the morning scooping up algae that has accumulated over the winter. Adding some barley straw is also helpful in controlling algae by producing lignin, which is then converted to hydrogen peroxide in the presence of sunlight.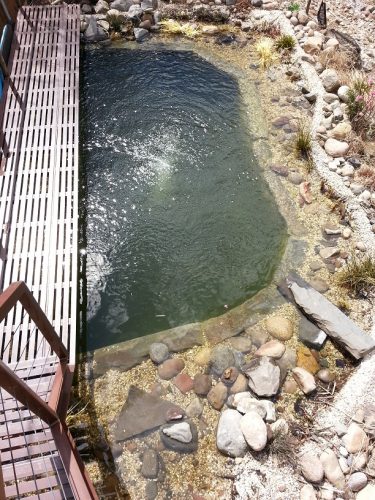 So how does opening a chemically intensive pool compare?
Step one is controlling the pH by keeping it at 7.0 or slightly below. If the pH is above 7.5 the chlorine is only about 10% effective. In most cases this involves the addition muriatic acid.
Step two is to check the alkalinity, which should be between 80-140 ppm. Alkalinity is a measure of the water's resistance to a change in pH. An improper balance of pH and alkalinity can reduce the effect of sanitation, cause cloudiness, and/ or deteriorate the concrete or siding.
Step three involves determining your Total Dissolved Solids (TDS) and Calcium Hardness. Both of these measurements will affect how corrosive the water is and often requires draining the pool.
Step four is backwashing the filter for cleaning when the gauge moves from 8-10 psi away from clean.
Step five comprises of cleaning the skimmer basket and scrubbing the walls of the pool weekly to prevent plaque build-up.
Lastly, running the filter and vacuum skimmer, often for a couple hours a day, for proper water sanitation is essential.
Considering the immense construction costs, the harsh chemicals additives, high energy pumps, and the endless hours of labor to produce and maintain a traditional swimming pool, it's no wonder the Natural Pool phenomenon is catching on in America. The aquatic ecosystems are almost completely self-sustaining, and after the initial cost of construction you are basically done with the expenditure.
Eco Brooklyn is very excited to be a Natural Swimming Pool installer for the New York area. We feel the benefits to building a natural swimming pool, or even better to converting a chlorine pool to a natural one, are massive. Because of it's natural features and fresh water t is such a joy to swim in and look at. It also adds so much to the local ecosystem.
-Anthony Rivale