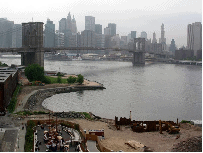 Over the  past few years biking has become an increasingly popular mode of transportation in New York City. More than 200,000 people bike everyday in New York City. There was a 26% increase in the number of cyclers between 2008 and 2009. Here at Eco Brooklyn, a number of our employees ride to work and it is common to see our front fence covered with bikes.
Despite Mayor Bloomberg's strong push for more bike lanes, which is great, New York isn't always the most bike friendly city; we have yet to create an urban plan that makes biking a priority, like the plans of Amsterdam and Copenhagen. In NY, bikers are still very much lone riders in a dangerous sea of motor vehicles.
One NY resident – Joshua P. Rechnitz , is attempting to increase the biking culture dramatically, not on the streets but in the form of a huge cycling track.
This peaked our interest. As a New York green builder there are two things we are interested in: buildings that increase healthy habits for humans and making those buildings out of sustainable products.
Joshua P. Rechnitz is a Manhattan resident, and partner of the Hudson Urban Bicycles and a competitive cyclist.
He also happens to be a philanthropist and recently gave the NYC Parks Brooklyn Bridge Park 42 million dollars to build a velodome- an indoor cycling center. In addition to the cycling track, the 115,000 square-foot facility will include indoor space for basketball, tennis, volleyball and gymnastics. It will also include seating for almost 2,500 spectators.
The 42 million dollar donation to the NYC parks department is the largest in the history of  New York. Previously, the donation from Barry Diller and Diane von Furstenburg for the High Line has been the largest donation to the Parks Department. Rechnitz's donation includes a promise to underwrite the first ten years of the new field house.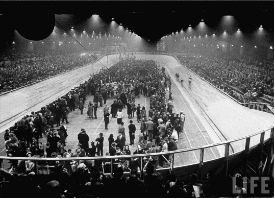 New York City was once considered the world capital of cycling.  Indoor velodome races captivated large audiences in Madison Square Garden, circa 1879-1920. In 1922, a giant velodome was built near the Harlem River on 225th and could seat 16,000 people (it burned down in 1930). Enthusiasts now believe this is the time to bring a long tradition of competitive cycling back to the city.
Although this facility has the potential to create a new community of cycles, many community member are saying, "Thanks, but no thanks."
Leaders of community groups in the abutting neighborhoods of Dumbo and Brooklyn Heights are tentative about the plan because of its shear size, which is significantly larger than a football field. The stadium also has the potential to pull a lot of traffic onto the 19th century cobble stone streets of Brooklyn Heights.
But an important question arises: what is more important: green space with trees and grass or development, albeit development for cycling? Some community members claim that over the past few years Brooklyn Bridge Park has been nibbled away by new structures, and this new velodome would be a continuation of that trend in a big way.
Although it seems that the velodome would replace an old warehouse that currently sits at Pier 5. The proposal does not seem to suggest that developers will retrofit the already existing warehouse, but rather just tear the existing structure down and build a new one.
Currently there is only one velodome left in New York City, at Kissena Park in Queens, but the 400-meter city owned track is not enclosed. One idea is to take the Rechnitz gift and build the proposed velodome on the existing velodome site in Queens, which sits just of the Van Wyck and Long Island Expressway. In addition to not crowding a park, there would be opportunity to retrofit an existing building and also ample room for parking.
This proposal and gift has potential to really expand the cycling culture in New York, a movement that is already strong but could use more support from the city. An increase in cycling culture could drastically reduce the city's carbon emissions through reducing car traffic and also make the city a bit healthier and happier.
Our main question is whether the velodome can be built so as not to decrease green space but actually increase it. This would mean not building on land that should be park space as well as creating a structure that increases green through living walls, ponds and green roofs.
After that we would want to know that the structure was built to the highest energy efficiency standards possible and with the greenest building materials. This usually means retrofitting an existing structure over building a new one.
If the building increases green space (for more than just humans), doesn't create a huge environmental impact during construction and during ongoing running of the facility, then the fact that it contributes to New Yorker's healthy lifestyle as a cycling park means it is a win-win situation for everyone. These are the standards by which we build and it really makes sense.