We just installed another green roof in Brooklyn. This time it was in Park Slope. We tried something different with this one. Instead of the conventional drainage mat we tried a new kind of mat.
The conventional mat has dimples and is covered by a mesh so earth does not pass through. It looks like this: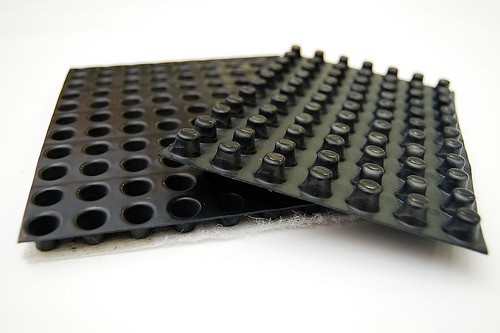 The dimples hold water for later which the plants can use. And excess drains away.
But we decided to try another version that is made up of a thick fabric that holds lots of water. the fabric is attached to a plastic mesh that allows space for excess water to drain. It looks like this:

We are very happy with the results.
The roof had already been prepped with a well sealed EPDM layer. We then laid the drainage mat then the growing medium:

We used Gaia soil as the growing medium. It is a mix of clay, compost and foam balls. This makes it light for the roof and nutritious for the plants. Once that was laid out we spread the clippings of sedum, which we got from Mother Plants. You order the sedum and they come in two days.
Once it is all laid out it looks more like a brown roof than a green roof.

The sedum look really sad and borderline dead for the first two weeks.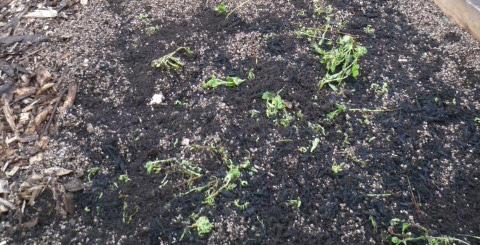 All their energy is focused downwards making roots. But slowly they come to life as little specks of green that grow imperceptive over the next year or two until the whole roof is covered in a thick canopy of colors and flora.
The roof went from this:
To this:
It was hot out when we installed the roof and the clients claim the temperature of their house was noticeably cooler after installing the roof. We also put insulation under the EPDM so that the house will be warmer in the winter. The green roof keeps the roof cool in the summer but doesn't do that much in the winter without insulation.
As well as the ecological impact, a green roof has real financial impact. Over the life of the roof they will save money in utility bills and roof replacement costs.
If we did our job right there will be no leaks for many years to come. If we really did our job right they won't have to replace the roof for at least 40 years. The savings are pretty good when you compare it with a tar roof that needs to be replaced every 10-20 years.
Their heating and cooling bills will go down too. They have over a year of utility bills and we are very excited to compare them with the next year's utility bills. It will give us real numbers on how much is actually saved in heating and cooling.
We want to see green roofs on every Brooklyn brownstone. It just makes so much sense on the triple bottom line: people, planet, profit.