The growth in sustainable and green living has given rise to a movement of eco-tourism in a variety of forms across the country.  Specifically the use of salvaged materials is making a breakthrough in the realm of practical and/ or novel green construction.
Across the country salvaged building trends and communities are blossoming and their projects range from the awe-inspiring to the comical.  I recently came across this link to a list of 8 "roadside" attractions made primarily or entirely of salvaged materials:
http://www.mnn.com/lifestyle/eco-tourism/photos/8-roadside-attractions-made-from-salvaged-materials/must-see-places
There's a beer can house, a quilted-oil-protesting-gas station, and the largest tree house ever built (complete with sanctuary and basketball court).  Besides roadside attractions I've come to find through friends and my own travels a number of interesting things made by hand with salvaged materials.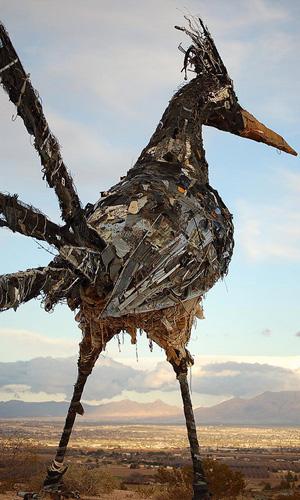 The Recycled Roadrunner.
Once a year in Glover, Vermont there is a gathering of people, "The Human Powered Carnival", that is the only (to my knowledge) 100% handmade and human powered carnival in existence.
Internationally there is a movement of "freeganism", a life style based around obtaining all necessary materials to live well without using money, this means dumpster diving for food, squatting (sometimes clandestinely), bartering services, and general scavenging.  There is enough usable waste produced by most large companies and institutions to feed, clothe and shelter everyone who needs it.  This movement is intrinsically related to the Human Powered Carnival, there is no advertisement besides word of mouth and there is an air of communal co-operation in all aspects of the event, from cooking to cleaning and operating the rides.
In a similar spirit, in California, there is "cyclecide".  Cyclecide is an organization based on finding expressive, interactive and alternate uses for bicycles and bike parts.  This idea sprang in 1996 and is rooted in a "freegan" ideology, their first pieces came from dumpstered bikes and some still do.  Their main event is a touring "bike rodeo" featuring varied attractions, from art installations to interactive bike or "pedal" powered rides, and valuable information.  This rodeo is not for the faint of heart, group events and contests such as tall bike jousting, while extremely fun and entertaining do pose some real danger, perhaps that's what makes it so fun?
This is an excerpt from their website that clearly describes the group's core beliefs;
"We remain passionately devoted to the idea of the bicycle as a piece of interactive kinetic sculpture that can make music, breathe fire, even save the world!"
What I find most exciting about this small grassroots movement is its power to subtly invoke great change in a person's cognition, with the near comic novelty of some of these art pieces and attractions people will let their mental guards down and approach this concept with a more open and relaxed mind, which is sure to get the wheels turning in ones head (whether pedal powered or not).