Friends —

Are you ready for a climate movement that doesn't compromise? One that takes the struggle directly to the profiteers creating the crisis?
Ahead of the UN climate summit in New York City, green groups are expecting more than 200,000 people to join the People's Climate March to demand that the establishment act before it's too late.
What's really exciting is that after the People's Climate March, thousands will join #FloodWallStreet, a mass direct action on September 22 confronting the root causes of the climate crisis and the Wall Street tycoons that profit from it.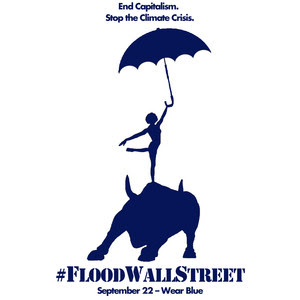 If you help make #FloodWallStreet a huge, global phenomena, we can make clear we are no longer going to compromise and will pursue nothing less than radical action against the fossil fuel industry and its profiteers. So let's kickoff #FloodWallStreet today by flooding the net.
Here's the idea: By promoting #FloodWallStreet in a coordinated fashion, all on the same day, we can dominate the Facebook and twitter feeds of people connected to the climate movement. We can recruit thousands more to participate in #FloodWallStreet both online and in the streets and even shift the narrative before the action begins!
Will you help invite 20,000 people to the #FloodWallStreet Facebook event? That's double the current number of invites.
Here's what to do:
1. First, click here on this link: facebook.com/events/301805359975258/ 
2. Then, RSVP for the event by clicking "Join"
3. Once you've joined, you'll see a new set of buttons. Next, click the "Invite" button that just appeared, and pick "Choose Friends"
4. In the box that pops up, select the friends you'd like to invite, and then when you've selected everyone, click 'Save.' You can also search for particular friends, or do a second round of invites if you don't get everyone the first time.
5. Click here to share the image above on Facebook.
6. Post to twitter about #FloodWallStreet. We suggest something like this including the image above:
#FloodWallStreet! Mass action to confront climate profiteers! bit.ly/floodwallstreet -Wear Blue- #PeoplesClimate pic.twitter.com/0BX3Xks4tM
Thanks for all you do,
– Flood Team 🙂