Fiberglass as a building product has been around for years but there were some hindrances to using it in window frames. I don't know the specifics of why but the hurdle has been overcome and more companies are making fiberglass windows.
I've called around and it is still very new. A lot of the sales reps haven't even gotten company training or even seen samples.
But there is no doubt in my mind that fiberglass windows will become the norm.
Fiberglass is made from sand basically. It is glass after all. Fiber glass. So it has all the great qualities of glass:
Does not expand/contract
Lasts for years
Great insulator
Relatively ecological to produce (as opposed to vinyl windows for example which is plastic)
Here is the laydown:
Aluminium:
good: ecological, not expand/contract, no maintenance, lasts
bad: doesn't insulate
Wood:
good: looks nice, insulates, ecological
bad: high maintenance
Vinyl:
good: insulates, low maintenance, lasts, affordable
bad: not ecological
Fiberglass:
good: insulates, low maintenance, lasts, ecological, not expand/contract
bad: ?
So fiberglass carries all the good qualities of aluminum, wood and vinyl without the drawbacks.
The only thing it lacks is the nice feeling of wood. But in my opinion that nice feeling fades over the years when your wood windows start warping, cracking and peeling. Unless of course you maintain them every year, which costs money, time and energy. Nothing comes without a price, except for happiness which is priceless and comes from within in abundance if you let it…..
But I loose focus….
Right now fiberglass windows are more expensive than the standard vinyl window but this is more a volume issue and not a material issue. To make fiberglass is very cheap. What is expensive is making the molds for the frames. Once the demand increase I suspect the price will also drop.
In terms of pricing they hover around the price of a good wood window. For example I am pricing out windows for 22 2nd street and got the following prices:
Home Depot has Jeld Wen which I would take over the better known Anderson or Pella. Jeld Wen is a VERY old company with solid quality. And priced much better. But NOT fiberglass. They priced me at around $9,000 for high quality aluminum clad windows with wood interior. Good stuff and good price. But not fiberglass….
Home depot could probably get me the chepest vinyl for about $7000 so it pays to go a little higher for aluminium/wood. Vinyl is bad for many reasons unless of course it is what you can afford and then it is very, very good. Everything and everyone has a purpose.
Fibertec priced me $12,000 for fiberglass white inside and standard color outside. Sam at Fibertec is really good with quick response. The windows however will take 7-8 weeks since they custom make every one.
Modern Way Lumber in Brooklyn priced me $18,000 for Bonneville windows which are great quality. But pricey and not fiberglass.
Marvin and Comfortline do Fiberglass. I am waiting, and waiting, for Allied Building Products to get back to me with a price on that. Still waiting….as luck would have it they just called as I write this and promise pricing tomorrow.
So the range so far is $9,000 to $18,000 for good quality Low E argon etc windows with Fibertec being in the middle at $12,000. Not the cheapest but they are fiberglass. I do think that fiberglass pays off in the long term. The windows will last longer, not cost anything for upkeep and save money on heating. In the long run they are the cheapest. Really the greenest choice.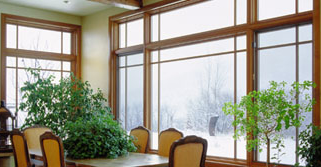 Fibertec Fiberglass Windows in a living room