F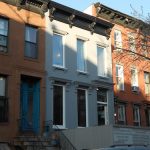 or those of us who live in historic homes we know that our period dwellings bring us both joy and frustration. The frustration is largely attributed to the endless repairs that classic Brooklyn Brownstones require and their not so efficient envelope.
Eco Brooklyn has renovated many brownstones and knows first hand how challenging it can be to air seal and insulate an building while still keeping it's traditional character.
With the advent of new energy efficient building techniques Eco Brooklyn is part of a new trend in Brownstone renovation: instead of following traditional guidelines to fixing up a house, some Brooklyn homeowners are transforming their townhouse into a Passive House – a German technique that can reduce a homes energy consumption up to 90%.
This past week, the Eco Brooklyn interns took the metro North train up to White Plains for the Das Haus Symposium. There were a number of speakers, some coming all the way from Germany to talk about projects, ideas and products that have either already migrated to the US or are on their way. The Passive House concept was a topic of interest.
The Passive House standard focuses on 5 main strategies:
Insulate strategically
Stop Thermal Bridging
Achieve air tightness
Install high-performing windows for thermal comfort
Reduce mechanical systems with heat recovery ventilation
Jordan Goldman, the engineering principal at Zero Energy Design was a speaker at last week's symposium. He is a Passive house consultant who recently finished a passive house restoration at 23 Park Place in Park Slope. The completion of this project marked the first certified Passive House in New York City!
The original structure at 23 Park Place was built in 1899 and had been owned by a few artists until it was abandoned a few years ago. After the new owners purchased the dilapidated property they decided to do a Passive House retrofit on the existing structure. Julie Torres Moskovitz from Fabrica718 was the lead architect on the project. She enlisted Jordan Goldman as the engineering consultant on the design.
Since this property was not land marked the retrofit became a complete makeover for the structure. For instance, all the fireplaces and chimneys were replaced to increase the overall air tightness of the space.
As noted before, air tightness and a system of interior and exterior air exchange are the key stone elements to creating  a cohesive thermal envelope ensuring maximum energy reduction.
23 Park Place met the air tightness requirements of a passive house, and far surpassed the requirements of NYC. 23 Park Place is not only 15 times tighter than a current building norm is achieved the highest air tightness level in all of New York City-  .38!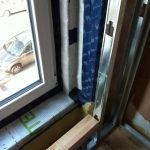 In addition to the insulation, comprised on 23 inch thick walls and three pane windows
Passive House calls for all the joists and meeting points to be sealed to create a continuous thermal envelope.
Although after so much emphasis on the insulation, you must be wondering how could anyone possible endure such stuffy conditions. The answer to this seemingly uncomfortable air is the energy recovery ventilator or E.R.V.
Essentially, the inside air is pulled through the ventilator, the heat is then transferred to a membrane, the air is cooled and then exits as exhaust. The fresh air outside is simultaneously being pulled in and warmed by the membrane. This system, which is referred to as "counterflow" maintains a constant temperate within the thermal envelop.
The Passive House energy use standards are far more stringent then those used by the US Green Building council, which issue certifications for LEED and the Energy Star program. It is considered excellent if a LEED certified structure can reduce energy consumption by 30% and Energy Star homes typically save about 15 to 20%.  With a Passive House there can be up to a 90% reduction in heating and cooling.
Now that's a paradigm!
Fortunately there are a number of Passive House projects underway in New York City, many of which are located right in Brooklyn. As a New York Passive House builder we hope to see an increase in the demand for Passive House design in the upcoming years. It costs within the range of normal construction yet greatly decreases a building's impact on the environment.