We have been getting really into clay wall applications for Brooklyn Brownstones. Brownstones have a lot of brick walls which lend themselves really nicely to clay wall applications.
Here is an order of clay we just got.

We love to mix different combinations to see what comes out. The trick is to find the right amount of aggregate – sand, marble dust, dolomite, saw dust etc – with clay.
Clay is a very absorptive material, which is why it is so wonderful It breathes. But that also means it expands and contracts dramatically. If you don't make the right mix your wall will look like a dry lake bed: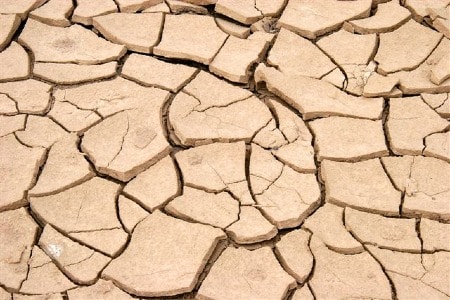 If you seal it this can also look really cool, though. That is the great thing about the whole process. If you have control over the clay it becomes your creative tool to make really beautiful wall applications.
One of the things we find goes really well with clay is casein powder. It acts as a great stabilizer to help keep the clay together. And it can be the base to carry the color. We are using a lot of color milk paint from MilkPaint.com. It is really great stuff.
Here is an example of a clay wall application over a Brownstone brick wall. It is a very thick layer with lots of saw dust. It looks very beautiful. But we wanted to explore more so we then put a second coat of finer clay mix and added a little "Sea Green" milk paint to give it color:

Here it is on the wall:

Here we are putting the base coat of clay over a brick wall that was sealed with a rough layer of Thoroseal to hold the crumbling wall together.

We mixed this batch of clay wall application with "Pumpkin" Milk Paint coloring.

A close up of the clay mix applied to the Brownstone brick wall:

Depending on the kind of clay you use in the wall application the color can vary quite a bit. It can be a warm earthy color if you pick say, Brooklyn Red, or a much whiter almost gray if you pick something from upstate. The great thing is that there is a lot of clay on the east coast to choose from.
I wouldn't say applying clay is easy since you need to know the right mixes and those vary depending on a lot of factors. Is the wall in the sun or shade, is the primary surface rough or smooth, absorbent or not, is the room ventilated or not, high traffic or not, etc.
But at the same time it is an ancient art. In fact it is the earliest art humanity has ever done: ancient cave paintings are made from clay. And there is something deeply familiar about covering your hands with mud and smearing it on the wall.