Here is something I found on the MIT site. It had some bad links so I reproduced it here. The reason I find it useful is that it was done by a student without any financial interest in the canal. It was also done before the whole Superfund issue, so it is not polarized yet.
I am trying to figure out where I stand on this Superfund thing. It seems there are roughly two lines here. The land owners for the most part don't want it because it will effect their land value in the short term. They claim they would rather clean it themselves.
Then you have others (not sure who they are) who do want the Superfund. I am still leaning to wanting it.
I am not convinced that the city will clean it up any faster than the EPA will nor that they will do as good a job. I also don't think the city will be able to raise the money needed, and if they do it will be out of our pockets.
Either way I am ok with paying for the clean up, it is a matter of how much. I own two properties near the Gowanus, both a block away. I realize that the Superfind site might lessen their value but the long term gains are well worth it.
Civil society strategies on the Gowanus Canal
By: Lindsay Campbell, MIT student
Intro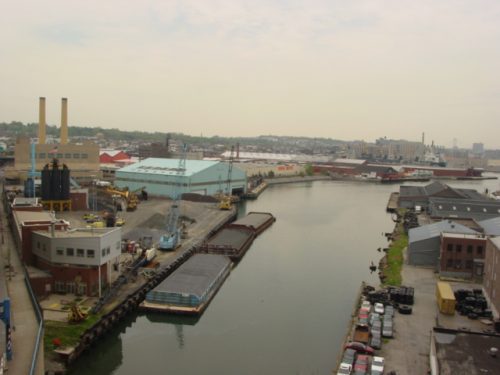 This website explores the factors shaping the strategies and tactics used and the outcomes achieved by a civil society organization that is involved in the revitalization and reuse of the Gowanus Canal. It represents one of three cases (the others being the Bronx River and Newtown Creek) that I am researching as a part of my Masters of City Planning thesis at MIT. The website was produced for a class project in Fall 2005, while the thesis research is ongoing through Spring 2006. I welcome your feedback to .
Why study industrial waterways?
The retrenchment of industry, legacy of contamination, and proximity to residential areas associated with urban, industrial and polluted waterways create planning, environmental restoration, and redevelopment challenges and opportunities. These challenges and opportunities are taken on and seized by various types of actors, including private developers, public agencies, and nonprofit groups. There are a number of different and sometimes opposing visions between and among these types of actors. Untangling those different visions and understanding how groups seek to achieve them is an interesting study in organizational behavior and interaction.
Why study civil society?
A large portion of the environmental movement has been built on civil society initiatives that eventually get picked up on by the public sector. While there are other models, I am interested in understanding this role of civil society as a "first responder." These organizations fill a role that government and private interests can miss, particularly related to social justice or innovation. Empirically, there are thousands of citizen-led environmental organizations at the local level and they are understudied. Most studies tend to focus on national level membership organizations like the Sierra Club. Also, stewardship (i.e. direct care of the environment) as a function is particularly under-studied, though a lot of civil society groups do this. Finally, I believe that these organizations represent a community asset and a neighborhood voice.

Why study organizational structure, tactics, and dynamics?
It is important to learn from what organizations have done, in terms of: generalizable lessons, best practices, potential pitfalls, turning points, and moments of opportunity. Just as other sectors study cases (like in business school), shouldn't someone scrutinize civil society's organizational dynamics?
Abstract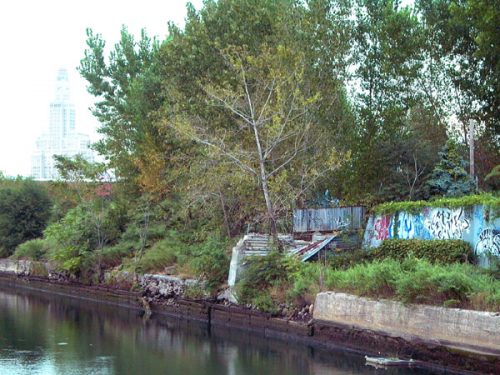 Depending on a broad swath of factors internal to the organization and external/situational factors, civil society groups select strategies rooted in conflict, collaboration, or independent action. These organizations select from "insider" strategies that cooperate with government and private firms; "outsider" strategies that depend upon advocacy and pressure tactics; and "low profile" strategies like stewardship, education, and environmental monitoring that engage with the resource, regardless of the political and policy context. Using a case study from New York City —the Gowanus Canal— this project explores the strategies and tactics used and outcomes achieved by civil society (nonprofit) organizations that are involved in the restoration, re-visioning, and reuse of industrial waterways.
Though the redevelopment of the Gowanus has been in the public consciousness to some extent for 35 years, a single, coherent coalition of citizens interested in revitalization has not emerged. A number of different civil society organizations including the Gowanus Dredgers and the Gowanus Canal CDC as well as private development interests have differing visions of what the future of the Canal should be. The direct action approach of the Dredgers, which is a water recreation and stewardship group, is serving the role of the "early responder" to a waterway planning challenge by using the resource as it is today and changing public opinion about the resource without requiring a great deal of financial support or organizational bureaucracy. Both the explicit organizational philosophy and the current level of capacity of the group prevent it from becoming the leader of a coalition and advocating for broader change in land use. Their intent is to affect the hearts and minds of individual people be exposing them in a meaningful way to the resource; in effect, building a constituency for the canal. Whether the Dredgers' view of the canal will be incorporated into its future reuse, and whether stewardship can play a lasting role in planning are open questions.
Geographic Context
Geographic context is critical to understanding the physical dimensions of the canal and the uses immediate surrounding it. A brief overview is provided here. More information on neighborhood characteristics can be found at the Community Board Six website or by downloading the Community District profile created by the NYC Department of City Planning.

The Gowanus Canal is located in South Brooklyn, NY. West of the canal is the changing neighborhood of Carroll Gardens. Historically, this was a primarily Italian American neighborhood, though there are a number of newcomers. It has been through a gradual but accelerating process of gentrification, particularly along the Smith Street corridor (now Brooklyn's upscale restaurant row) and also along Court Street. East of the canal, Park Slope is primarily more affluent, white, a mix of gay/lesbian/straight households, families, a lot of kids, and also newcomers. But the area immediately around the Gowanus, in Red Hook, and in a number of housing projects including the Gowanus Houses in Boerum Hill became increasingly more African American and Latino populated in the 1950s, 1960s and 1970s. But that "Gowanus" neighborhood and its residents seem to be disappearing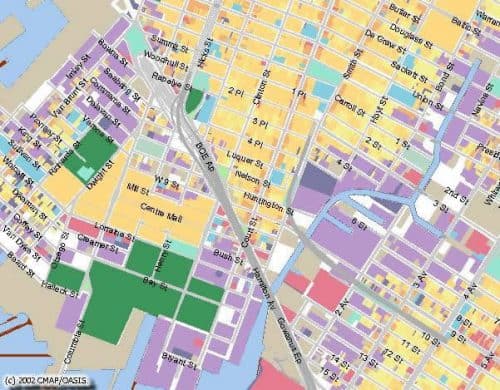 The land use map and aerial photo show the mix of industrial and residential uses in close proximity with a narrow, two block industrial corridor. The canal truly penetrates into the heart of several Brooklyn neighborhoods. These views also shows the lack of open space in the area, except for in Red Hook. The playing fields in Red Hook are cut off from the other neighborhoods by the Brooklyn Queens Expressway, which is elevated here as the Gowanus Expressway. The 9th Street F train is also elevated over the canal. A number of other small removable bridges cross the canal at Union St., Carroll St., and 3rd St. The Gowanus flushing tunnel pump house is located at Butler Street and the tunnel goes underground to Buttermilk Channel in the East River to circulate water and keep this dead end canal relatively fresh.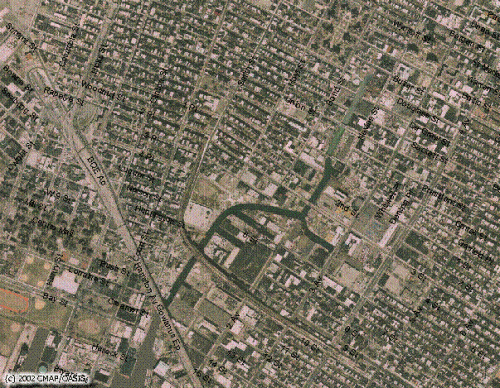 Click here to take a photographic tour of the Gowanus Canal.
Click here to download an account of current water quality and conditions in the Gowanus Canal from the New York Department of Environmental Protection's Use and Standards Attainment project.
Historical Context
Below is a chronology I developed based in April 2005 off of information contained in the last 10 years of articles in the New York Times that referenced "Gowanus Canal." While my project is not primarily historical in nature, I created this chronology to help ground my understanding of recent civil society action in a timeline of events. For a narrative account of the Gowanus Canal history, with greater detail on pre-1993 history, click here to download a PDF of an account written by the Brooklyn Center for the Urban Environment.
Colonial times

Marshy inlet with game, fish, oysters; Gowanus oysters exported to Europe.

1860

Marsh filled in; canal is created by deepening, widening and walling a natural creek to make it navigable; it is "a passage to nowhere" ending 1.5 miles from the bay; first industry related to the building boom in Brooklyn, lots of bars, roominghouses, and sailors

1888

A newspaper calls the canal "a blot on America's civilization"; barges used to boat through it to kill barnacles; For half a century was a "maritime superhighway for barges bearing coal, sand, oil, and brick"

1906

26,000 passages on the canal in that year

1911

Flushing tunnel built to Buttermilk Channel that refreshes canal with sea water

1940

Shipping moves to New Jersey

1960

Verrazano Bridge built, goods can enter Brooklyn by truck

Pollution and smell are so bad (hydrogen sulfide), that city at one point dumped in truckloads of chlorine to neutralize the smell; hydrogen sulfide is from sewage overflow, sediment sinks to bottom and decomposes and creates bubbles of the smell

Gowanus Canal Community Development Corporation begins agitating for the Gowanus to continue for 25 years; VP Salvatore "Buddy" Scotto (also President of the Carroll Gardens Neighborhood Association and owner of Scotto Funeral Home) sees San Antonio's Riverwalk as its model

1962

Flushing tunnel stops working

1986

New Red Hook Sewage Treatment Plant in Brooklyn Navy Yard improves water quality on the canal

Dec 1993

City meets with prospective bidders on $5 million project to reactivate canal's flushing tunnel; city planning official thinks there is merit to Scotto's proposals

July 1996

Barge traffic is very light especially in summer; just one remaining company at the north end: Bayside Fuel Oil and only 10 total industries on the whole thing

June 1997

Brooklyn Center for the Urban Environment offers first boat cruise on the canal (executive director John Muir); found dissolved oxygen at just 2.8 ppm (need 5ppm for fish life) and light can penetrate only 2 feet (need 6 for plant life)

1998

City dredges canal, extracting 2000 tons of contaminated mud

July 1998

Mayor Giuliani supports Brooklyn Commons plan, 500,000 square foot multiplex and sports center ($65 million) on the canal on 9.4 acre former post office site; Park Slope neighbors wary of traffic; Rep. Nydia Velazquez wants traffic study; site leased for $500,000/year + environmental cleanup costs; plans to use "suburban design in the middle of the city"

Aug 1998

Real estate investor David Lefkowitz buys ½ acre plot off Carroll Street bridge, interested in redevelopment; area residents have "love-hate" relationship with canal, nervous about gentrification, like it as an icon, hate the smell

Schools of killifish have been sited; along with occasional shore birds, crabs, and ducks

Real estate agent says property values have risen more than 40% from 1994-1998 and is having no problem selling homes near the canal

Flushing Tunnel project now to cost $10 million; DEP says will improve water quality for animal life, also will reduce stench because sewage will dissolve; others say canal must be completely dredged and sewer runoff dealt with

March 1999

Artist Dennis Lynch docks houseboat on the canal at Lefkowitz's property; Lefkowitz wants to open restaurant

Film "Lavender Lake: Brooklyn's Gowanus Canal" written, directed produced by Carroll Gardens resident Allison Prete

May 1999

Flushing tunnel reactivated –MORE INFO–

Scotto wants to move onto dredging and repairing the bulkheads

Sept 1999

Ninth street drawbridge reopened to traffic after 5 years of repairs ($35 million)

Oct 1999

Fifth annual Gowanus Canal CDC dinner attended by 300 community residents and interested supporters; director of the Riverwalk in San Antonio invited to speak (which receives 7 million visitors/year)

Summer 2000

Oyster company plants seedlings

July 2000

Manhattan High School for Environmental Studies studies biodiversity on the canal, cultivated a bed of mollusks, did water quality testing, collected neighborhood oral histories; found crabs, sea robins, flounder, sea bass; monitoring information shared with the NY Department of Environmental Conservation for a study on the waterways

Nov 2000

Head of the Army Corps of Engineers and the NYC Department of Environmental Protection reps tour the canal by boat, announces a $3 million study to evaluate cleanup options on the canal; Rep Nydia Velazquez was the driving force behind getting the federal government involved via their Hudson-Raritan estuary study; cost shared by COE and DEP

Mar 2001

Brooklyn Commons entertainment complex plan goes bust after three years of talk and planning and even after $3 million invested in site cleanup, but developer Bruce Ratner filed suit in federal court because said Postal Service was already negotiating with Forest City Ratner (with an option to buy the site) when made millennium deal, after 2 years of litigation, Millenium pulls out; Buddy Scotto very disappointed

Forest City Ratner would be developing it for an Ikea; community groups like Community Consulting Services are opposed to the project because of traffic (adding on to that from Home Depot and Cotsco) also Care About the Slope is involved—developing vision for what they do want; also not sure if Forest City will honor the "good faith agreements" that were made with Millenium Partners; Forest City developed the multiplex on Court Street but is said to have worked with Brooklyn Heights Association

April 2001

Governor Pataki announces $270,000 grant for the Gowanus, part of $1mil for 7 sites in Brooklyn and Queen

June 2001

Owen Foote, creek activist, canoes on the creek; concrete is the only active industry on the Creek

Ratner cuts off negotiations with Ikea, in response partially to community upset and opposition—will talk to another potential tenant; Ben Meskin, president of Care About the Slope said it would still go forward with suit against Postal Service and Forest City saying that environmental review was inadequate

Dec 2001

$270,000 in capital improvements of plants, trees, shrubs from the NYC Parks Department Commissioner Henry Stern are installed in 4 sites on the canal

Jan 2002

Mayor Bloomberg calls for new life on New York's shoreline, citing "the underused waterfront of Brooklyn's Gowanus Canal"

Mar 2002

Army Corps of Engineers and Department of Environmental Protection dedicate $5 million to do a feasibility study for environmental cleanup of the canal; Nydia Velasquez helped secure the money

Buddy Scotto notes "so far, the long-term investment in the canal has been mostly unseen. Now, it's about ready to bloom. We already have a kayak club and a canoe club."

June 2002

DEP upgrades equipment in the flushing tunnel (spending the equivalent of $500,000)

Gowanus Canal CDC and Borough President Marty Markowitz receive $100,000 in state funds to identify locations for habitat restoration and repair of bulkheads

July 2002

Former post office (which once was a coal processing plant) site at 2nd Ave between 9th and 12th Streets being cleaned of environmental contaminants, including benzene; to be redeveloped by Forest City Ratner into a Lowes; Gowanus Canal CDC holds meeting to discuss the project at St. Mary's Star of the Sea Church

Sept 2002

"Gowanus Canal has attracted hodgepodge use by kayakers"

Developers planning the first apartment building son the canal; filed requests to Board of Standards and Appeals to convert manufacturing buildings into rental apartments; GCCDC supports the conversion

Owner of warehouse on the canal says "at least six to seven times a week someone rings my bell asking if there are apartments available"

Dec 2002

Lowes makes progress with community negotiations, makes concession to provide waterfront walkway; planning to open Spring 2003

Mar 2003

KeySpan makes Voluntary Cleanup Agreement with DEP to study contamination at their site at Smith and 5 th Streets (a former gas plant); GCCDC hopes the site will become affordable housing after it is cleaned up; current tenant Ferrara Brothers Building Materials hopes to remain

May 2003

COE and DEP Gowanus Canal and Bay Ecosystem Restoration study underway; team found snails, glass eels, and juvenile shrimp; mentions that oysters have been introduced, jellyfish, bluefish, cormorants, ducks, and egrets have been spotted

Red Dive, an artist group, performs "Peripheral City: Rediscovering the Gowanus Canal"

Oct 2003

Gowanus Artists Open Studio Tour VI features more than 70 artists

Feb 2004

Columbia University Graduate School of Architecture Planning and Preservation students doing plans for the whole canal including vertical hydroponic farm and floating walkways; Buddy Scotto likes the ideas but doesn't know how to implement or finance them

There are three new street-end parks on DeGraw and Douglass Streets

June 2004

"The Gowanus Canal Conference: Perspectives on Environmental Restoration" at Brooklyn College organized by GCCDC, Corps of Engineers, and funded by a grant from Con Edison, features 200 researchers, community leaders, elected officials and environmental advocates

DEP finalizes plans for $40 million upgrade to the flushing tunnel, changing from a single to a triple propeller

Sept 2004

Urban Divers begins making dives in the Gowanus Canal, including in a celebration of National Estuaries Day; and they team up with biologist and neuroscientist to analyze the effect of chemical pollutants on bio organisms in the canal

Hong and Li LLC secure permits for a five story hotel on Union Street between 3 rd and 4th Aves, near a stone crushing plant and a casket maker; Southwest Brooklyn Industrial Development Corporation says this is encroaching on the 400 industrial firms in the area

Nov 2004

Gowanus Village development of 350 condominiums on three acres between Carroll and 3 rd Streets is advertised by Africa Israel Investments Ltd and Boymelgreen developers' website (in the very preliminary stages); developers applied for DEC brownfield cleanup program, but the development would require a zoning change

March 2005

Alex Figliolia contacts Community Board 6 to find out about buying land behind his property and along the canal; triggering an investigation of the now-filled-in 1 st Street Turning Basin; both properties are purchased by Boymelgreen, which begins a debate over the history, ownership, and jurisdiction over the basin

GCCDC presents comprehensive community plan addressing restoration, development of residential and mixed-use zones, and canal access rights at public meeting at Carroll School; plan requires developers to use green technologies and is "very ambitious"; Department of City Planning is exploring the approach

April 2005

Urban Divers and Gowanus Dredgers hold Fifth Annual Gowanus Spring Clean-Up