Here is a design our architect intern Matthew Pethley sketched up for a row house we are designing in Bed Stuy. it is not what we eventually designed for them on but I wanted to share it because the ideas are really cool. It would make for a beautiful space. It addresses the issue that row houses have which is they are dark in the middle. I thought the idea of taking off part of the roof was a good one too.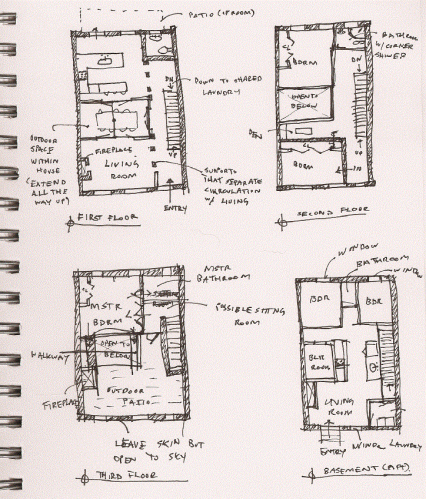 Matthew's comments:
Attached are some ideas I had. The biggest 2 are to open up a
courtyard in the building using the footprint of the boiler room in
the basement. This will allow more light and air penetration into the
inner part of the building, while giving an outdoor dining room on the
1st floor (something you really dont see). The second portion is to
open the roof on the 3rd floor and reducing the covered portion. By
leaving a lot outside and leaving the skin intact, you create a unique
space with lots of outdoor entertaining potential. This also allows
the master bedroom to have a large patio as well. I am going to try
and sketch some of these ideas in perspective and put the whole thing
in autocad today on my day off, but I wanted to get you this quickly.
The stairs would be open to allow air to circulate within the building
better (that is also why they are stacked in the same place). I added
in a row of columns within the first floor to carry the load from the
open air dining on the first floor. This also defines a circulation
and storage portion to the floors (the load is carried from the top
floor through the walls on the second). The outdoor dining on the
first floor is designed to open to allow the area to become one full
space in the center through sliding doors (it does create a water
issue, but it is just an idea). On the garden apartment I put in a
shared laundry for the 2 different groups and added a 2 bedroom in the
basement. The rooms arent huge but they should be able to fit a queen
size bed (I also sketched in the windows that are needed for egress).
Here is another take on the design: