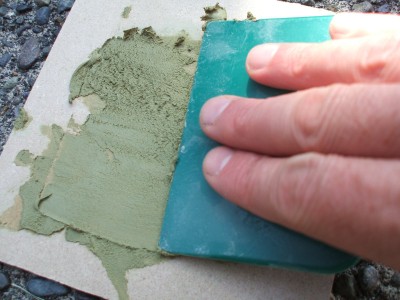 American Clay is a great company that is reviving a millenia old building technique of applying clay to building walls.
They have a strong local culture and associate themselves strongly with their Santa Fe roots. But to grow as a company they also ship anywhere.
They are very helpful with advice too. Shaylor at American Clay knows a lot and is genuinely there to help.
Clay is a great wall application with all sorts of benefits. For example it is one of the ingredients in backerboard that is used in wet areas like bathrooms. Clay is a natural sealant because the molecules expand when wet and seal themselves. Then when they dry they breathe again.
In terms of clay applications American Clay are the best on the market bar none. But that also has its disadvantages because clay is still in the boutique realm of green building. And that includes the prices.
$50 for a small sack of dirt is expensive. And trucking it all the way from New Mexico is a little silly.
I'm looking into local sources of raw clay to mix myself. After all, the local hardware store has ten brands of concrete mix. It is not rocket science to mix a couple ingredients together. In fact the ratios of how to mix a good clay application should be common knowledge just like concrete mixing ratios are today.
Shaylor says that Ohio has a good kind of clay and I'm looking into that. But I also know NY has a lot of clay. I'll be doing a test so keep a look out for that. Having clay in the Brooklyn Green Show house is a must. I'd really like if I could find a local raw source for clay and get a good mix going.
For those of us who like to bring back the crafts to building that is the way to go. Build It Forward baby!
Of course if you want it off the shelf in New York you can buy American Clay at Bettencourt Green Building Supplies. Ask for Michael. He knows a lot about the clay and how to apply it. It does take a little getting used to in the application but it is easy if you know how to stucco or work with plaster.